Services or capabilities described in Amazon Web Services documentation might vary by Region. To see the differences applicable to the China Regions, see Getting Started with Amazon Web Services in China.
Step 3: Add the Amazon SNS topic and finish your rule
Next, add the target (the Amazon SNS topic) that you created in step 1 to the CloudWatch Events rule that you started in step 2.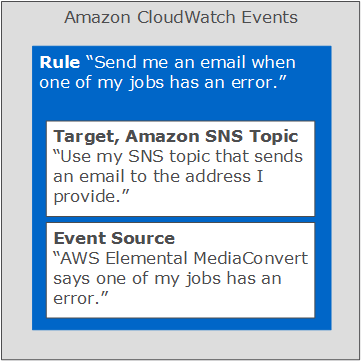 To add the SNS topic and finish the CloudWatch Events rule
In the Targets section, choose Add targets, and then change the default Lambda function to SNS topic.

For Topic*, choose MediaConvertJobErrorAlert.

Choose the Configure details button.

For Rule definition, enter a name and description for your rule, and then choose Create rule.