Services or capabilities described in Amazon Web Services documentation might vary by Region. To see the differences applicable to the China Regions, see Getting Started with Amazon Web Services in China.
Using an Amazon Snowball Edge Device
For information about unlocking an Amazon Snowball Edge device, see Using the Snowball Edge Client.
When the device first arrives, inspect it for damage or obvious tampering.
If you notice anything that looks suspicious about the device, don't connect it to your internal network. Instead, contact Amazon Web Services Support, and a new one will be shipped to you.
The following image shows what the Amazon Snowball Edge device looks like.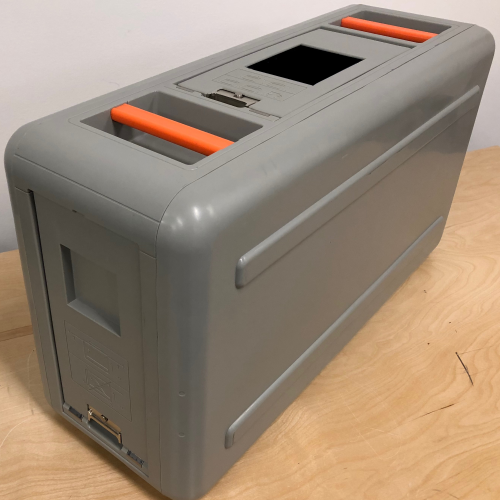 The device has three doors—a front, a back, and a top—that all can be opened by latches. The top door contains the power cable for the device. The other two doors can be opened and slid inside the device so that they're out of the way while you're using it. By opening the doors, you get access to the LCD E Ink display embedded in the front side of the device, and the power and network ports in the back.
After your device arrives and is powered on, you're ready to use it.